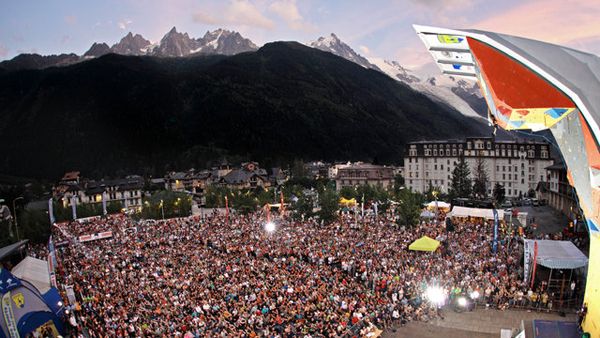 At the beginning of July, the
IFSC
held their annual Lead and Speed World Championships in beautiful Chamonix, France. Me and the Horizon chaps headed out to broadcast the event live for their 10,000+ crowd in the square and 50k+ audience online. For the benefit of those who don't know 'Speed Climbing' is pretty much just that. Two climbers climb the same route side by side in a race to the top of a 15meter wall. Chamonix has produced record breaking speed climbs in the past and 2012 was no different.
Yuliya Levochkina
of Russia broke the Womens World Record twice in the same afternoon, rocketing up the 15meter face in 8.53 sec.
See all the action from the speed finals here..
The following day was the finals of Lead Climbing. The worlds finest lead climbers, minus Jakob Schubert who was disqualified for using a clip as a foothold, battled it out in the pouring rain. The people of Chamonix and the climbing world showed up in force despite the downpour, filling the square, from start to finish.
Catch all the action here..
Turrah!